Connection through playing cards
Ducale is all about bringing friends and families together. The brand, proudly made in France, has been an advocate for fun and conviviality since its beginnings. All while keeping the country's rich cultural heritage alive. By reinventing the great French classics like Belote, Tarot, President and Rummy, Ducale bridges the gap between generations, all in favor of creating magical memories.
Ducale, the French game
Playing cards have been Ducale's core business for over 70 years. The brand's credo? "One deck, endless possibilities." Ducale is loved in France and beyond for many reasons:
Made in France, the playing cards adhere to the highest quality and safety standards.
Commitment to sustainability and an eco-design approach. Cartamundi France, Ducale's production facility, carries the Imprim'Vert certificate, a European quality label for sustainable printing.
Specific decks for traditional games such as Belote, Tarot and Rummy.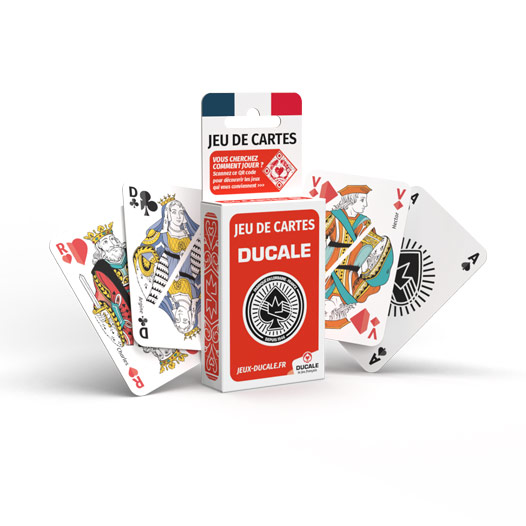 Cartamundi: leader in playing cards
Cartamundi's global presence and position as world market leader in playing cards allow us to provide a platform for local brands. It is our mission to support the craftsmen and their expertise, to protect the heritage of these local love brands and to keep producing them to the highest manufacturing standards.
Explore the Ducale brand
Curious to explore the full Ducale range?