Medimundi – A Cartamundi Purpose Story
In the earliest days of the COVID-19 pandemic, Cartamundi looked for ways to better fulfil their social role in a society under siege by the coronavirus. During this search it became clear that the large shortage of high-quality respiratory protection masks in the care sector was one of the main problems facing the population. A partnership was established between the University of Antwerp, machine manufacturer Cloostermans and a private investor to provide an answer to this growing issue, with Cartamundi taking the operational lead over the consortium. Soon, the project transformed into a subsidiary company called Medimundi.
In less than 6 months, a high-quality product was developed, and a fully automated production line was built and installed in a new production facility at the Cartamundi site in Turnhout. David Germis, CEO of Medimundi: "We are taking an important step for society. This type of mask offers the highest possible protection against pathogens such as viruses, bacteria, and carcinogenic substances. They are indispensable for medical personnel in the front lines of the fight against the COVID-19 virus. Our masks carry certified European quality labels, a standard that not all of the respirators meet".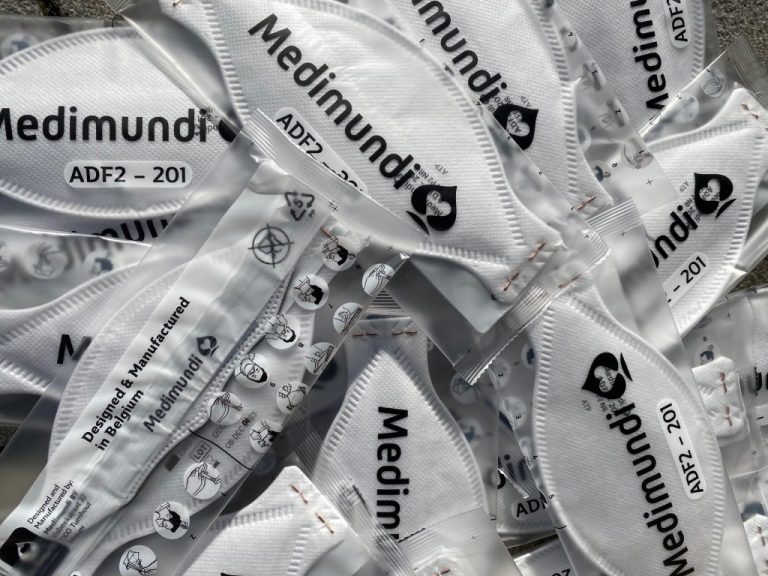 The masks were designed by researchers from the Product Development Department of the University of Antwerp using inventive and patented technology. They are distinguished by their maximum protection during high-risk situations, along with optimal wearing comfort. As the sole Belgian manufacturer of FFP2-masks, the masks meet the highest European standards which serves as a guarantee of their quality.
Medimundi can count on Cartamundi's extensive know-how and supply chain for the purchase and transport of raw materials, production and packaging of the masks and their delivery to the customers. Furthermore, the network of Cartamundi factories all over the world provides an excellent potential springboard for internationalisation outside the Benelux.
In current times Medimundi continues to invest in innovations and other similar products. For example, the starting shot for the development and production of FFP3-masks for industrial purposes was recently given. In addition, work continues on innovations for the FFP2-mask for medical professionals.