Sturdy playing cards you can rely on
Eagle playing cards are a favorite in many Asian countries, with Singaporean players being the biggest fans. The original 601 deck, mostly appreciated for its high-grade technical qualities, is a staple among baccarat players and card enthusiasts alike.
Extra strong, easy glide, that's Eagle
Eagle playing cards are an example of solid craftsmanship.
Extra strong and durable, the playing cards consist of two layers of card stock.
Completely opaque due to the black core made up of adhesive, blocking curious eyes peeking through the card.
Easy glide thanks to the hypersmooth, non-stick coating.
Extremely resistant to bending and marking, as the card stock is made of long fibers, giving the cards their 'snap' when bent and released.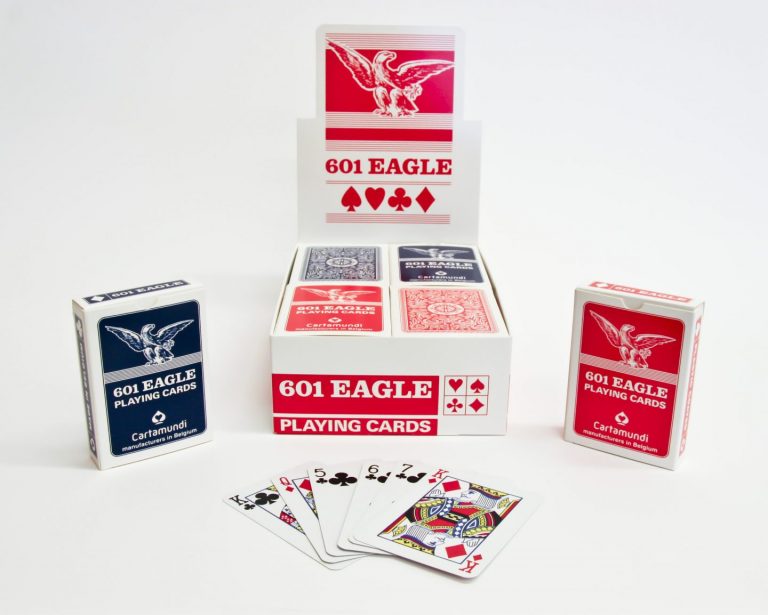 Eagle is soaring since 1972
The Eagle brand was designed by Belgian playing card company Van Genechten in 1888, mainly for the Chinese market. Van Genechten would join forces with card maker Brepols to found Cartamundi in 1970. In 1972, Cartamundi struck a deal with the Singaporean Malaya Trading Company which launched and registered Eagle in Singapore. 40 years later, in 2012, Eagle came full circle and safely landed in Cartamundi's portfolio.
Cartamundi: leader in playing cards
Cartamundi's global presence and position as world market leader in playing cards allow us to provide a platform for local brands. It is our mission to support the craftsmen and their expertise, to protect the heritage of these local love brands and to keep producing them to the highest manufacturing standards.
Explore the Eagle brand
Curious to explore the Eagle range?
Visit website