NHS Heroes
Much like other parts of the world, Covid-19 seemingly settled overnight in the UK, looming over every household, and where February was business as usual, March had a rapid and dramatic change as the virus took grip. From the freedom to attend big events such as Cheltenham Festival to a full lockdown scenario – the small things people took for granted vanished moments later. The UK's National Health Service (NHS) set about preparing for the influx of cases, and one clear communication swept Britain – Stay home, protect the NHS, save lives.
With all this change comes uncertainty, one half of the media coverage was the fear and impact this virus was set to create – the other half– those heroes tackling it on the frontline. These individuals are working tirelessly across the UK and beyond to feed the nation, care for the most vulnerable, and keep hospitals operational. Such acts would typically be associated with superheroes.
With a strong desire to do more while sticking to the lockdown rules, the Cartamundi UK team looked for innovative ways to support the NHS and these everyday heroes. Questioning how can a card games manufacturer go one step further from being a source of entertainment and light relief for everyone at home to actually making a difference?
The answer to this – "NHS Heroes" playing cards, celebrating those frontline workers while keeping people entertained at home.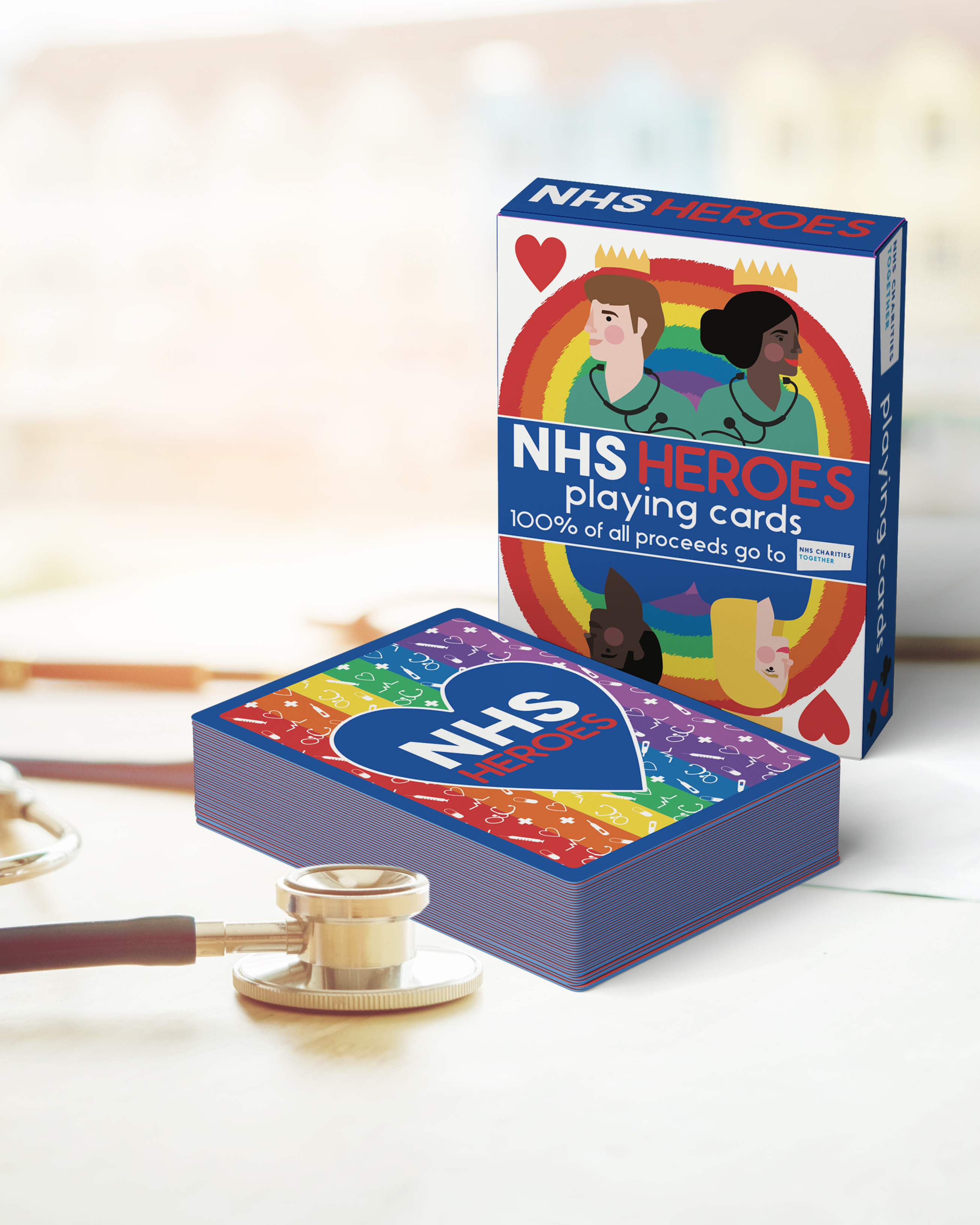 The United Kingdom in Lockdown
On the 23rd March, the UK government announced the country was to begin a full-scale lockdown. Britain was given compulsory new rules to follow, from one designated hour of outdoor exercise a day to a complete ban on gatherings and non-essential shops opening.
Even though the rules are challenging family life, several somewhat positive outcomes have since emerged. For one, a general sense of comradery has swept the nation, including the introduction of 'Clap for our Carers.' Every Thursday at 8 pm, households across the country are joining together in spirit to clap, cheer and celebrate our frontline workers from the safety of their front doors and gardens.
Furthermore, every window has become ordained with rainbows, which have become synonymous with the pandemic, in a bid to show solidarity with the NHS workers for their heroic actions.
A second positive outcome has been the increase in family and friends connecting during the lockdown. The lack of physical get-togethers has meant a huge surge in daily facetime calls, virtual pub quizzes, and people coming together to help one another feel less alone. Similarly, those isolating together have genuinely fallen in love with board games, jigsaws, and card games, utilising them as a way of connecting people and collectively easing worried minds.
"We've seen an increase in demand for our games," says Daniel King, General Manager of Cartamundi UK, "which you sort of feel in two minds about. It's been great to see our games playing a role in encouraging quality family time, which really aligns with our company's purpose of "'Sharing the Magic of Playing Together"'; however it important to us that we did something positive from this increased interest.
'As a company, we've spent fifty years learning how to create playing cards that stand the test of time. We want to funnel this expertise into a campaign to ensure it is more than a gimmick or fleeting fad. We are motivated by our desire to build something to last, something we can be proud of, and something that will, ultimately, actually make a difference."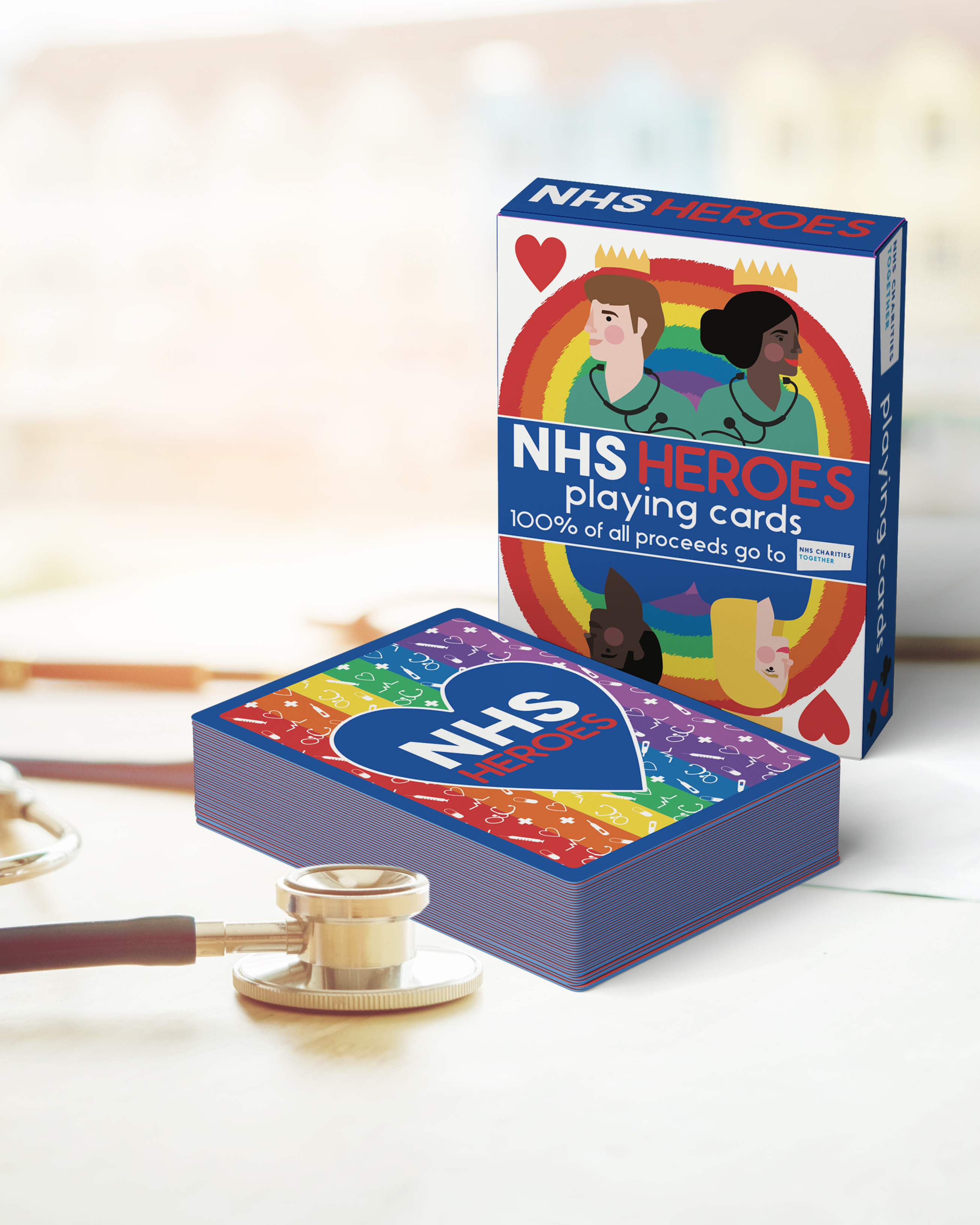 The creation of the cards
The Cartamundi team set to work creating, manufacturing, and launching a new pack of playing cards in a bid to raise funds for the NHS heroes.
The deck was specially crafted with illustrator JJ to feature NHS Heroes, including doctors, nurses and surgeons in place of traditional Jacks, Kings and Queens, as well as the rainbow colours that adorn windows across the nation.
King continued: "It would have been very easy to just create a new sleeve for traditional cards with the NHS charity logo on and I'm sure these would have generated sales, however that simply wouldn't have been enough. It wouldn't have captured our emotions.
'We wanted to celebrate our heroes, and when we found JJ Illustrates through social media we could see how her illustrations of people could really depict our NHS Frontline workers – so with her help, we transformed a pack as you know it. Jack, Kings, and Queens became our NHS Frontline heroes. The design is great, it's warm, colourful and most importantly, it's authentic.
'Finding the right NHS partner to support that would really deliver results was hugely important of the process – several charities had emerged almost overnight and various brands had created campaigns too.
'There are several charities promising to raise funds for Covid-19 relief; however, we wanted to ensure our partner was going to play a pivotal role in both Covid-19 and the future of the NHS. NHS Charities Together was the ideal partner for us; we know that our support would both help now as we face Covid-19 but also in the future when things perhaps start to return to some form of normality. As well as supporting the NHS nationally, they also support on a local level, so we know that funds will actually reach the NHS heroes and those who need our support."
With the charity partner in place and the designs complete, the next challenge the business faced was finding the right format to get the cards out into the market quickly.
Crowdfunder
Crowdfunder offered a unique route to market and a way in which the business could fundraise and know that all money raised would go back to the charity without the complications of retailer profits, fees and other hoops associated with bringing a product to market.
"Striking while the iron was hot was imperative for this campaign and getting retailers on-board can be a long process as products move through a retailers' cogs. Crowdfunder offered us a unique solution – a way of raising funds for NHS Charities Together with all proceeds going to the charity.
The initial response has been fantastic, in the last 24 hours we've raised over £1,000 and we're well on our way to raising our £10,000 goal originally set out. We've also been able to move very quickly, from coming up with the idea, to bringing the cards to market, it's been less than two weeks" says King.
"Now we just hope that Britain will get behind the cards, visit the site and buy them. I'm incredibly proud to be involved in the campaign, and a business which has supported the UK team in our mission to raise funds for our NHS heroes. Across the world, we're making every effort to support the fight against coronavirus and it's heartwarming to see how well Cartamundi has responded.
'Cartamundi' is Latin for 'cards for the world' well now we have cards for the nation, as we push through this together, staying home, protecting the NHS and saving lives."
Instant support
Initial support has been fantastic, over the last day or two since going public, Cartamundi has raised over £1,200 with 125 supporters. The Crowdfunder page has also been flooded with messages, including several from frontline workers.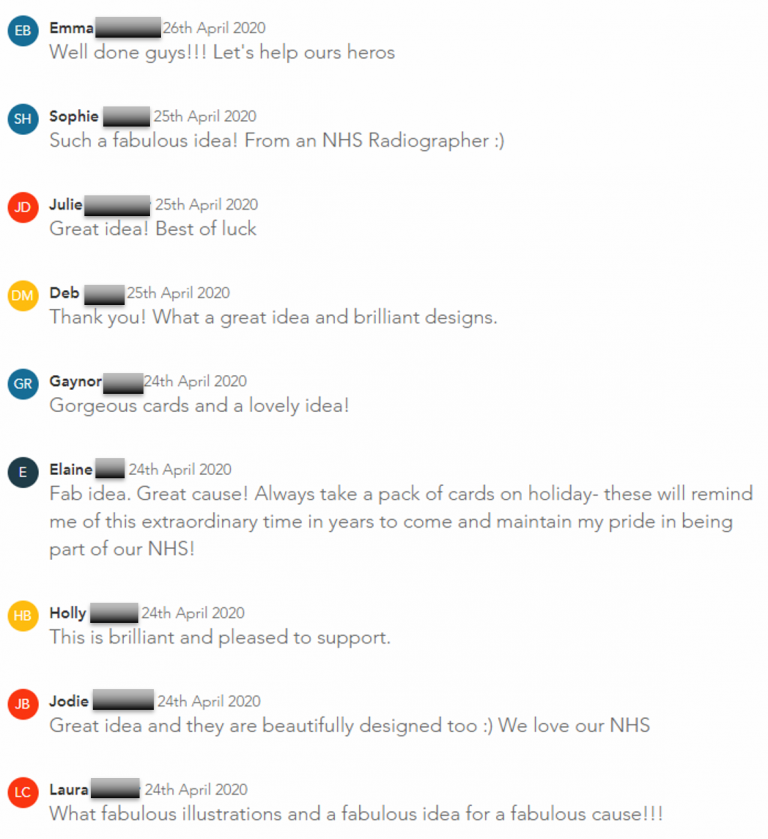 NHS staff on the frontline have also expressed their gratitude for the campaign.
"It's been amazing seeing how the public are coming together to support the NHS during this time," said Grace, 21, a Mental Health Nurse based in Manchester. "From hearing the clapping every Thursday to creative fundraising acts like this, it's all really appreciated and provides a real boost to all the frontline workers.
'It's not been an easy few months but there's nothing I'd rather be doing right now. The money raised from these cards will undoubtedly help us keep going and ultimately save lives, so thank you to everyone who's bought a pack."
Buy now and suport the NHS Heroes
The NHS Heroes deck are available as a reward for a £5 donation at https://www.crowdfunder.co.uk/nhs-playingcards . If you make a £50 donation you will receive 12 decks or you can donate to the charity without a reward deck of cards. All proceeds from the sale of the cards will go to NHS Charities Together.
NHS Charities Together is a registered charity no. 1186569.