Maxim is a game developer who loves parkour and animals. What's so special about that, you ask? Well, Maxim invented his first card game in 2019 – when he was just eight years old.
Remember being six or seven years old, and having to learn to multiply?
We all know those pesky times tables. No fun at all. That's what then eight-year-old Maxim thought too. One day he decided to turn them into a card game.
"I was studying in my room and it was so boring to learn the times tables," explains Maxim. "That's why I invented a card game. To make it more fun. I played it a lot with my mom." While playing his game, Maxim and his mom found themselves asking questions. What happens when you both draw the same card? Then you have to battle and play two more cards, Maxim decided. And just like that, his game gained specific rules and boundaries.
Maxim gave the game a spot-on name: maXimaal , a combination of his name and the word maal, which means multiply in Dutch.
Winning by chance, not by skill
maXimaal is a game that's simple enough for six-year-olds to play, but still challenging enough to keep older kids entertained. All the times table cards are marked by their level of difficulty with one, two or three stars. Want to keep it easy? Then just stick to the one-star cards.
The game doesn't let you win by how well you know your times tables, either. It's perfectly possible to win, even if you don't know them very well, thanks to the trump cards. They give you an automatic pass. "It keeps the game light and fun," explains Maxim's dad, Nicolas. "And it's the best way to learn while playing."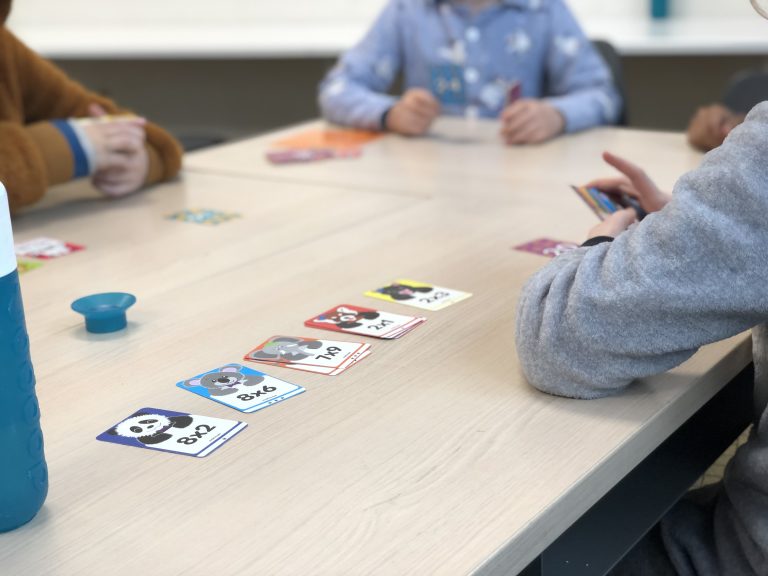 Red pandas with sunglasses
By September 2019, Maxim and his family were playing the game almost every day. Nicolas says: "One day, Maxim asked me if we could produce his game because he wanted to give it to his friends and sell it around the world to help other kids learn the times tables. To show him that anything is possible if you really want it, I said 'yes'!"
"Luckily, Maxim's godmother and aunt Shiva is a graphic designer. She loved to turn Maxim's dream into reality by designing the times table cards and box with animals, as requested by Maxim. The design was made with much love and some artistic advice from his nieces, Anissa and Amelia, who were eleven and eight at the time."
"Maxim immediately knew how his card game should look: colourful and fun cards with animals. They give you a warm and happy feeling even before you start to play." Each animal represents a times table and every card has a different feature. "This tiger has a cap on his head and this lion is sticking its tongue out," says Maxim, while he shows off his cards. "My favorite one is the red panda with the sunglasses."
Lots of potential
Nicolas approached Cartamundi to make the first prototypes of maXimaal through Cartamundi's prototyping platform Make My Game. The collaboration went smoothly, says Account Manager Jeroen Adams from Cartamundi. "We want to help everyone who invents a game in making their dream come true. An eight-year-old game developer is not something you see every day. To us, it was clear from the beginning that maXimaal had a lot of potential. It is a creative game that's both fun and educational."
Homemade instruction videos
Once the first games were printed, they had to be tested. Maxim and Nicolas shot videos of Maxim explaining the rules of the game. "On the back of the game box, we printed a QR code that takes you to the instruction videos," says Nicolas. "We wanted to make it easy for teachers, parents and grandparents to show kids how the game works."
To find testers, Nicolas posted a video of Maxim presenting his maXimaal game in a Facebook group with teachers and got an overwhelmingly positive response. "Over 500 teachers wanted to test the game. We even got some reactions from Curaçao. When we showed Maxim where Curaçao was, he was ready to personally deliver his game there (laughs)."
In March, Maxim's classmates were able to test maXimaal. 85% of them liked the game a lot and everybody wanted to play it again. But then the corona pandemic hit and schools closed. Nicolas says: "After a few months of waiting, we thought: let's just go for it. By the end of September, maXimaal was available through a few distributors for schools and the two biggest toy chains in Belgium, Fun and DreamLand."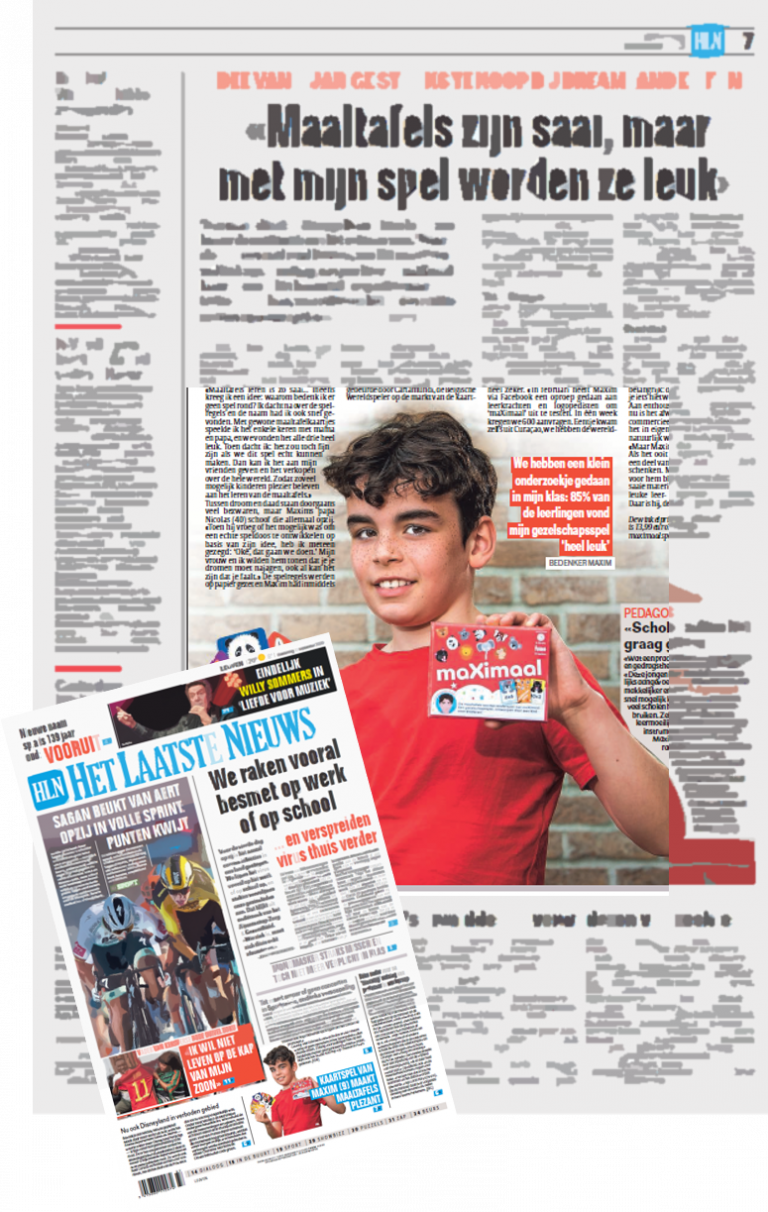 The Uno of times tables
maXimaal is popular with schools, parents and grandparents. After two weeks, the game was featured as a top-selling item online. "We also received many emails with warm feedback about maXimaal," says Nicolas. "Some people even get emotional. Parents who find it frustrating to try to teach their children the times tables let us know that it has become a fun experience. It makes Maxim happy to know that he can help others with maXimaal, which was the goal of his game. I really believe maXimaal could become a staple game in homes and classrooms. Kind of like the Uno of times tables."
Next stop: USA
"Maxim didn't just design maXimaal to learn times tables, but also to learn the division tables. Shiva has already finished the design of maXimaal 'Division Tables'. It's now ready to print", explains Nicolas. "Maxim also wanted to make maXimaal into a gaming app where the animals from the game come to life on screen."
When asked where he would like to have his game go next, Maxim doesn't have to think long: "The United States!" If maXimaal can help children in Belgium, why not in other countries? Nicolas says: "We are open to listen to partners who could be interested in distributing the game in their country."
Meanwhile, life goes on as normal for Maxim and his family. "Maxim is nine now and has other things to do than being an entrepreneur," says Nicolas. "Of course, he would be very happy if maXimaal would be available in many other countries to help other children learn the times tables and division tables in a fun way. At the same time, Maxim also wants to give back to the community and donate part of the profit to charity."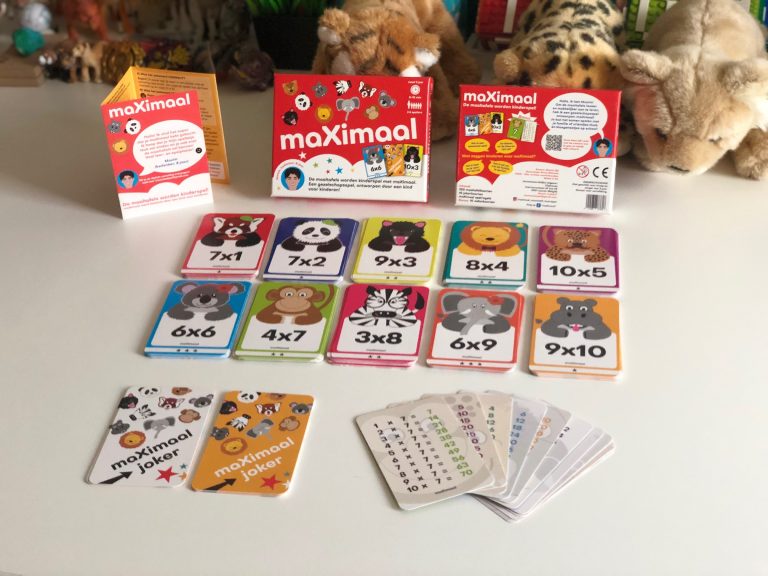 Do you want to find out more about this game?
MaXimaal is open for licensing across the globe. If you want to know more, contact Cartamundi. We'll get you in touch with Maxim and Nicolas.
Specifications
Services