A full year of celebration
We are proud to be celebrating our 50th anniversary! Throughout 2020, our jubilee year, we will be pulling out all the stops with a festive logo and putting our activities, our people, our customers and all our partners in the spotlight to thank them for helping us write the inspirational story behind Cartamundi. At the same time, we will be taking advantage of this moment to bring the entire Cartamundi family even closer together.
Would you like more information about all our plans for 2020? Then subscribe to our blog!
The programme will include:
numerous activities for and by our employees;
blog articles illustrating the experiences of two of our employees, who will be visiting several of our production plants all over the world;
an open doors day;
a party;
a book commemorating 50 years of Cartamundi;
a prominently festive look for the Cartamundi stand at trade fairs and events;
extra attention for Cartamundi's anniversary on social media with the hashtag #cartamundi50.
To sum it up, during 366 days we will be looking back at Cartamundi's fantastic history. A year to look forward to, passionately and eagerly.

100% Belgian
For the history fans out there: Belgian card games originated in the 18th century, with 1796 marking a real turning point in that sense. Pieter Corbeels, a Leuven-based printer, and his assistant, Philippus Jacobus Brepols, moved to the Campine region of Belgium to flee the French occupying forces. This event would go on to revolutionise Belgian printing history. While Corbeels was executed by the French, Brepols was able to continue his master's life work, becoming the godfather of the playing card industry in Turnhout.
The name – and the company – Cartamundi first saw the light of day in 1970. It was in this year that three producers of playing cards (Brepols, Van Genechten and Biermans) bundled their know-how in a joint venture. A new world player in the card game industry, Carta Mundi – which was still written in two words at the time – was born. A 100% Belgian venture!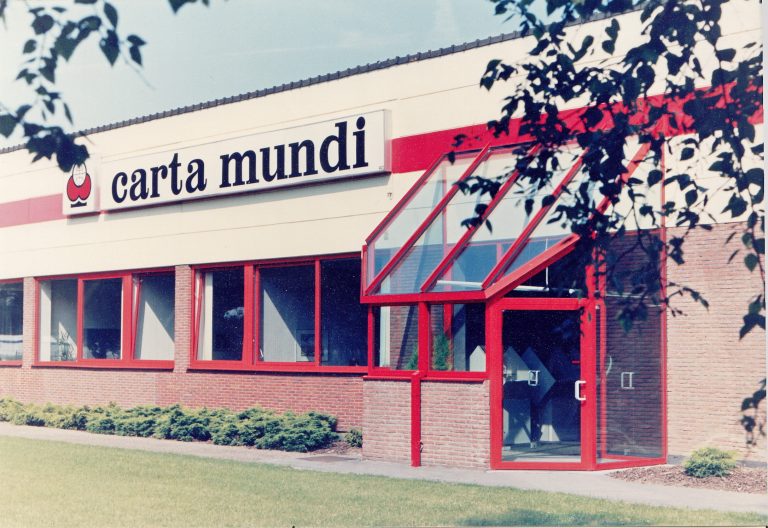 World player
Cartamundi is Latin for 'cards for the world'. In 2020, however, when one thinks of the word 'card' a lot more comes to mind than just the ubiquitous deck of playing cards. Did you know, for example, that legendary board games like Monopoly® and Trivial Pursuit® are made in our factories? And did you know that many collectible cards from major distribution chains and loyalty cards issued by major publishing houses are designed and produced by us? Today, we are the largest manufacturer of playing cards and board games in the world. All in all, we produce one million card games each day, and just as many board games every week. There are no other manufacturers that even come close to achieving our output.
Playing is fun
Card games and board games are still tremendously popular, and the demand only continues to grow. This is only logical, because after all, playing is fun. Not only that, it involves strategy, psychology, tactical thinking and diplomacy. In fact, playing a game means enjoying something together, and learning from it at the same time. Playing establishes connections between people, transcending the boundaries of generation or culture. Looking your opponent in the eye, and experiencing the emotion of winning or losing in real life: you must admit that this feeling cannot be obtained by playing against a computer. Our mission, 'Sharing the Magic of Playing Together' is more relevant today than ever before. We intend to keep sharing this magic, also in the next 50 years.
Make My Game
Do we allow digitisation to dictate what we do? Quite the contrary! After all, 'bits and bytes' fuel everything we do. This can be illustrated by numerous examples. Cardistry, for example, has grown into a genuine community, boosted by social media. In addition to this, the 'Make My Game' online platform  lets us respond to the demand of the crowdfunding trend within the board games market: professional or amateur game inventors can have a prototype of their own game made in order to convince crowdfunders of the merit of their concept. Also, with our own a digital agency in Drongen, Cartamundi Digital, we have all the know-how at our fingertips to develop apps and digital applications. If you can think it, we can make it. This too, is magic.
Sustainable and engaged
With 250 years of experience, a workforce of 2,500 and 14 production plants, Cartamundi today exceeds the ambitions of the motivated card maker it was at the start of the 19th century. Thanks to centuries of efforts and the global expansion of the past 50 years, we have grown from an experienced manufacturer of cards to a multimedia entertainment company driven by international ambition and sustainable, humane innovation in close partnership with our customers.
We are currently active in no less than 16 countries, and in each one we adopt the good practices and expertise of our local businesses. This way, we strengthen our opportunities for growth while also consolidating our local engagement. In other words, we opt for a 'glocal' approach to worldwide markets. After all, playing traditions vary from region to region, and consumers have different demands. The best way to be of service to them is to rely on the knowledge and experience of our local teams and to give creative talent maximum opportunities to develop. This too, is what Cartamundi is all about.
Specifications